Seven Boats has received thousands of online & offline appreciations from its students, workshop participants, corporate houses and you can find plenty of spontaneous positive reviews on Google, Udemy, Facebook, Justdial, Indiapl, Glassdoor, Ambitionbox, Quora, LinkedIn & many more.
IIM Rohtak community would like to thank you for your contribution as distinguished speaker in the workshop. As a token of our gratitude, in your honour, a tree has been planted at Rewari district Haryana to provide the local communities with fresh fruits and oxygen. We appreciate your memorable contribution and hope that you will join us again.
Dear Team, We would like to first express our gratitude to Mr. Debajyoti Banerjee for the insightful session on Digital Marketing. The attendees were very appreciative of the learning and found the skills taught to be an asset for their future path ahead in their managerial career. Thank you team Seven Boats for your coordination & support.
On behalf of the Student Chapter, 'Computer Society of India' we wanted to express our appreciation to you for online convention on Digital Marketing & Statistical Approach. It was extremely informative & the class size and participation illustrated the importance of this topic to bankers. Thanks for making such convention successful and we appreciate your continued support.
I liked the course and I have gone on to get my first position in digital marketing. You guys should be proud. You are more than welcome, feel free to use me as a case study (I was a truck driver 18mth ago) I also moved country to find the job, England to Malta
I wanted to get trained in internet marketing in Kolkata. The options were few but I decided to go along with 7Boats.com. I never regretted my decision! 7Boats.com has great teachers (Especially Debajyoti Sir) and tools to teach modern digital marketing. They are very approachable and the classroom lessons helped me understand the nuances of being a digital marketing professional. I cherish my days at the 7Boats.com academy in Kolkata.
Excellent teaching. Dear Debajyoti, Thank you for your motivation and teachings….I cannot stop thanking you as your guidance and teachings really helped me in seeking knowledge enthusiastically in this field.
Top-notch Digital Marketing Course & Services. Undoubtedly 7Boats is an ultimate solution for any kind of Digital Marketing service or training in India. Keep up the good work
It has personally been a great learning experience. Never would have thought that a subject as vast as Digital Marketing could have been any more enjoyable…
I have pursued the Digital Marketing Certification Course from Seven Boats Academy and it has been a wonderful experience. I was a bit doubtful if I would be able to understand the modules, but our trainer, Mr. Banerjee has great expertise in simplifying the digital marketing topics so that a non technical person like me, could also understand the concept properly. Thank you Seven Boats!
It is the best Institute to learn Digital Marketing. Extremely talented teaching & Well thought out curriculum. Faculty Debajyoti is very friendly & answers all questions. In addition, he provides all detailed notes & practical class.
As a digital marketing learner I found 7boats is just fabulous place to learn. here I found many helping hand ,which will help me to grow up my career. Another thing ,In my view This is the one of the best digital marketing institute in India which is very much frankly to student. Whenever, whatever help you need, A sailor you always found in your side. Carry on your good work. Keep sailing
I am Nittya Balodia currently working in PwC SDC Kolkata Pvt. Ltd. as an Associate (Consulting and Deals). I did a digital marketing certification course at 7boats. The course really helped me to understand how digital media can help you in creating a personal brand as well as a professional brand. It also gave me insights on what is latest in digital marketing industry. The proactiveness of my mentors at 7boats helped me in understanding the value of "Personal and Professional Branding" that fetched me "The best Trainee- Induction Award at PwC"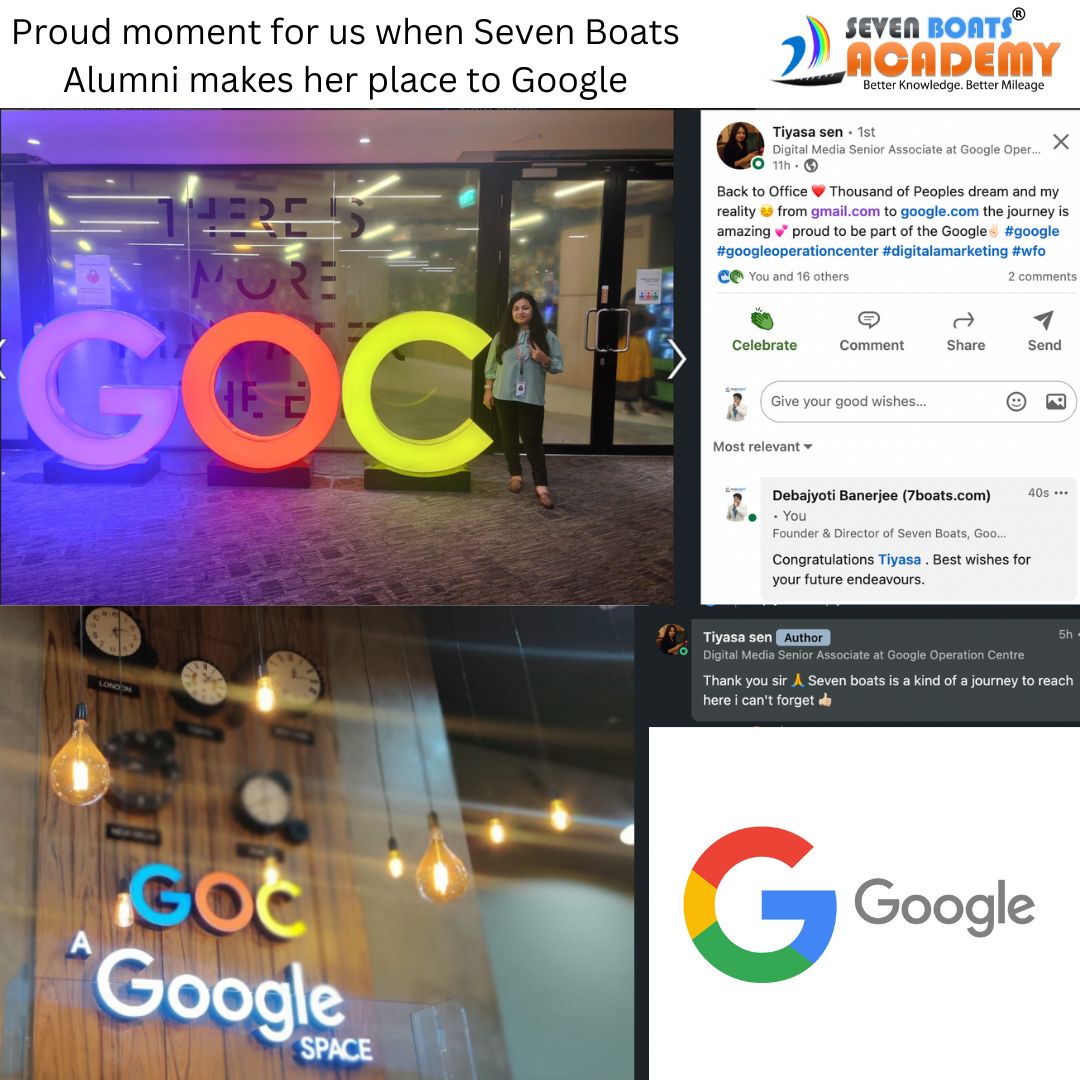 Your Video tutorial is so nice and easy to understand. Over all the subject of digital marketing so interesting. I am just trying to learn more.
Dear Seven Boats, Thank you so much for the opportunity to work on this internship program. It's been a pleasure working with your team for the past one month. It was a wonderful experience for me. I am glad I could learn so much over the course of this Internship. This wouldn't have been possible without the constant support of our mentors Shiksha Ma'am, Sayani Ma'am and Kutubuddin Sir. The skills I learnt helped me develop a practical understanding to complement the theoretical knowledge I acquired during the Digital Marketing course. It would be a pleasure to keep in touch and seek your guidance in my future endeavours.
Interview with our Ex-Students & Industry Experts
Watch what our students are saying