Introduction
In recent years, the rise of enterprise instant messaging apps has revolutionized corporate communication, offering businesses a more efficient, collaborative, and streamlined way to communicate.
"Employees who used instant messaging on the job reported less interruption than colleagues who did not." found out a study conducted by Ohio State University and University of California, Irvine. The study also concluded that the use of instant messaging for official communication improved productivity manifold times.
That said, it is understood that office team chat apps hold the key to long-term profitability. Enterprise messaging apps like WhatsApp, WeChat, Facebook Messenger, Skype, etc. surpass traditional communication platforms like email and can contribute to a firm's productivity and profitability.
In recent years, the rise of enterprise instant messaging apps has revolutionized corporate communication, offering businesses a more efficient, collaborative, and streamlined way to communicate.
Benefits of Enterprise Instant Messaging Apps:
Real-time Communication: Instant messaging apps enable employees to communicate in real time, facilitating quick decision-making, problem-solving, and information sharing. This eliminates delays associated with traditional communication channels like email or phone calls.

Enhanced Collaboration: These apps promote collaboration by allowing teams to create group chats, share files, and brainstorm ideas in a centralized platform. It fosters cross-functional collaboration, regardless of geographical location or time zone.

Increased Productivity: Instant messaging apps eliminate the need for lengthy email threads and unnecessary meetings, enabling employees to communicate and resolve issues efficiently. This leads to improved productivity and time management.

Remote Work Enablement: With the rise of remote work, instant messaging apps serve as vital communication tools, connecting distributed teams and facilitating seamless collaboration. It allows employees to stay connected and engaged regardless of their physical location.

Integration with Other Tools: Many enterprise messaging apps integrate with other productivity tools such as project management software, document sharing platforms, and video conferencing tools. This integration enhances workflow efficiency and simplifies task management.

Centralized Communication History: These apps provide a centralized platform where entire conversations, files, and shared documents are stored. This helps maintain a record of important discussions, making it easier to reference and retrieve information when needed.

Challenges and Considerations:
Security and Privacy: As with any digital communication platform, data security and privacy are crucial considerations. Organizations must choose messaging apps that prioritize encryption, data protection, and compliance with industry standards.

Information Overload: Instant messaging apps can lead to information overload if not managed effectively. Organizations should establish guidelines on app usage, etiquette, and proper communication practices to avoid distractions and maintain productivity.

Integration and Adoption: Seamless integration with existing systems and successful adoption by employees are important factors for the successful implementation of instant messaging apps. It requires proper training, change management, and ongoing support.

Popular Enterprise Instant Messaging Apps:
Slack: A widely used messaging app that offers features such as channel-based communication, file sharing, and integration with various tools.

Microsoft Teams & Skype: Part of the Microsoft Office 365 suite, Teams provides chat, video conferencing, and collaboration features, seamlessly integrating with other Microsoft applications.

Google Chat / Google Meet: Integrated within the Google Workspace suite, Google Chat enables real-time messaging, file sharing, and collaboration among users.

Cisco Webex Teams: Offers secure messaging, document sharing, and video conferencing capabilities, making it suitable for remote teams and large enterprises.

Mattermost: An open-source messaging app that allows organizations to self-host and customize their instant messaging platform based on specific needs.
WhatsApp Business
Facebook Messenger / Teams

Some More Advantages of Enterprise Instant Messaging Apps
Adding Security, Reliability & Flexibility for corporate communication
Way back in 2011, a survey taken by Robert Half Technology found that at least 54% of Chief Information Officers affirmed real-time workplace communication (read: enterprise chat apps) to surpass e-mail in 5 years. Today, in 2016 the study's finding cannot be anymore accurate.
WhatsApp, Facebook Messenger, WeChat and the list of other chat apps are more personal in nature. Also, they lack the high-level security and customizations that enterprise messaging apps provide. Further, enterprise chat apps can also be accessed anytime, anywhere without any issues.
Office communication apps fasten corporate communication and help get things done at the speed of thought thus, playing a dominant role in profitability. They move corporate communication towards a realm where it is no longer required for executives and team members to cling on to their emails for formal communication.
Let's take a look at some more noteworthy features of real-time chat apps for enterprises:
Strengthens information integrity
An enterprise chat ensures that no third party who does not belong to the team chat is not becoming part of the communication flow. Even with BYOD and similar innovative work cultures, business messaging apps help retain the integrity of confidential information that can be discussed only within team members.
Install once, use everywhere
The standard enterprise chat needs to be installed in the employee's device just once. It can be updated, maintained, controlled or done anything with as required by the IT protocol of the organization. As for the employee, it comes with the benefit of using it from anywhere, anytime without any restrictions.
A single window chat session for each individual project can make information sharing and inter-employee communication easier and simpler. Enterprise messaging apps bring a social character to project management and team interactions. It makes it easier and quicker to exchange ideas in between team members who, as in most cases are dispersed across multiple geographical locations.
Uniform capabilities for all users
WhatsApp does not have what Facebook Messenger has. WeChat has what WhatsApp and Facebook Messenger does not have, but it is not as functional or widely used as the duo. Imagine the mayhem at workplace when different teams use different business messaging apps for communication? It will be disastrous. With real-time chat apps, enterprises can equip their employees with equal and uniform capabilities that will make communication more streamlined and robust.
Pinpointing the features native to corporate messaging apps
Stay connected, stay informed – Round the clock connectivity with team members

Group chat for teams, departments or project-wise

Track used based on their locations using geo-tracking

Push notifications/Alerts to employees based on their locations

Social network credentials enabled logins for quick and hassle free access

Save everything instantly with Auto sync

Unrestrained multimedia sharing for docs, images, files, etc

Impenetrable security with HMAC encryption

Facility for users to set their custom chat availability preferences

The power of voice calling with data connection

Share live screens with multiple users

Fully search integrated

24*7*365 customer support
Spotlight: Technology that makes up a real-time enterprise chat app
Looks can be deceiving, especially in case of an real-time chat app, the UX can take a 360-degree turn when it is put to actual use. An enterprise chat app is powered with high-profile technology that is rarely found in personal team chat apps. Moreover, enterprises sometimes require specific features and customizations that will improve the utility of the office team chat app.
Contus Fly: A comprehensive framework for developing Enterprise Chat Apps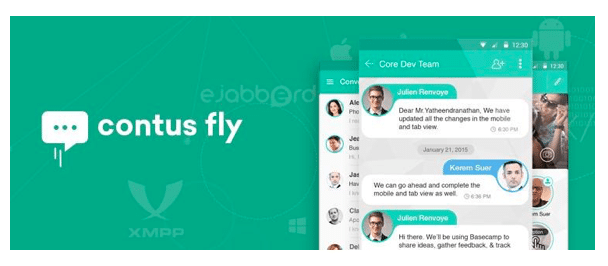 A need for a dedicated framework with which made-to-order business messaging apps can be made is deeply felt by enterprises. For such enterprises, Contus Fly is an ideal option which gives everything that they expect of a framework for building their own Enterprise chat app (http://www.contus.com/messaging-solutions.php). It can even be adapted to any mobile OS platform like Android, iOS, Windows, etc.
Being a unique and distinct offering that has little competition to compare with, Contus Fly can undoubtedly be regarded as a framework that defies normal conventional standards. It is designed on the ERLANG programming language (WhatsApp is built on ERLANG!) which makes it agile for quick fixes. Not to mention the robustness that come with the use of a world class programming language.
Contus Fly also boasts of present day progressive features like social logins, enhanced user experience combined with security using Cassandra. The chat message transmitting from one user to another user(s) is lightning fast, thanks to the use of Ejabberd (XMPP) server. Contus Fly works on Amazon S3 bucket which empowers enterprises to quickly scale their team chat app on as and when need basis.
Features explained, it can be concluded that when it comes to Contus Fly expect nothing but ground-moving capabilities.
Conclusion
Enterprise instant messaging apps have transformed corporate communication by offering real-time collaboration, increased productivity, and seamless connectivity. As organizations continue to embrace digital transformation and remote work, these apps play a vital role in fostering efficient and effective communication within modern workplaces.