Unlike mass marketing, niche marketing is all about focusing on a small group of people or a market segment. You need to narrow your focus in niche marketing. Your target will be a small segment of consumers with unique and similar needs. Thus, you can define a niche market as a focused and targetable portion of a market.
This means, you business must address the need for product or service, which other mainstream providers failed to address. Now that you know what niche marketing is all about, it's time to choose your niche. And for that, you need to opt for something you are knowledgeable about as well as something you enjoy doing.
How to choose your niche
The following are 3 elements that are essential for choosing your niche area:
Make sure it is an area capable of delivering high profit
Make sure the area has low risk
Make sure you know your brand
How to identify a niche market?
Learn about Maslow's law (hierarchy of needs) and try to find out a high demand, high profit & low competition market. The research part is very crucial here.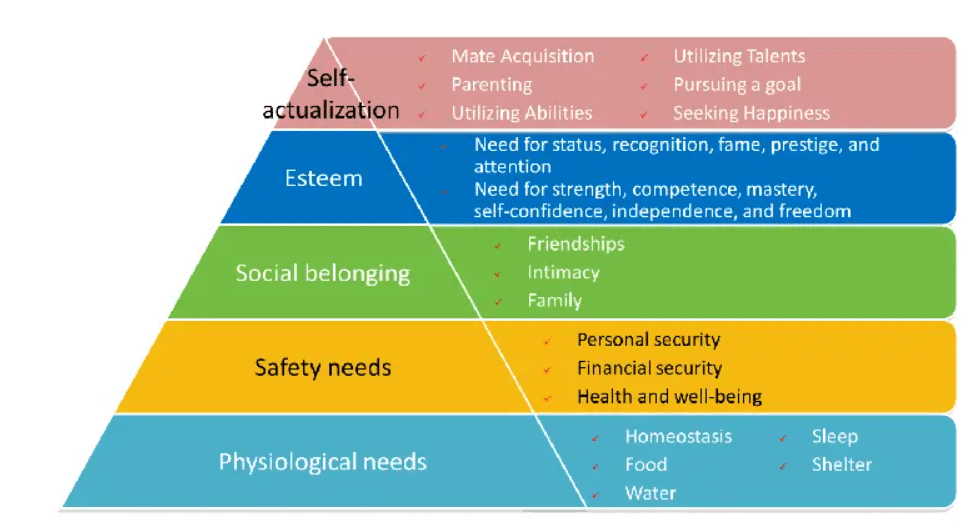 Example of drilling down to a niche market
The following are the 5 big markets to niche down on.
Health & Fitness
Wealth / Money
Relationships & Dating
Self Improvement
Hobbies, Interests & Activities
Now for example let's take the health and fitness sector and select yoga. (Why? The Pilates & yoga market was valued at US$87,926 million in 2017 and is projected to reach US$215,811 million by 2025, growing at a CAGR of 11.7% from 2018 to 2025.)
So how you can further break it down to a specific niche?
Yoga for students
Yoga for over fifties
Yoga clothing for men
Yoga leggings for women
When it comes to high profit, opt for an area which is a ready market 'just waiting for your' product or services. Your customers must be ready (to pay) to purchase your products or leverage upon your services.
Regarding the area having low risks, this will eliminate the necessity to make large investments in your business. It must be an area where you can start with whatever you have at hand and get more tools as you move ahead.
Personal branding is extremely important in niche marketing. It plays an important role in positioning your business strategically in the market. The main focus would be on the exclusivity you are offering. This alone has the potential to attract your audience to your products or services.
Also, you need to be aware of what other people are talking about you, including your customers and target groups. For a successful personal branding you must stand out in the crowd, rather than being one amongst the many. You need to develop your mark, the same one that you have created around your name and career, into your business (products and services).
This will express and communicate your skills and values, making you unique for your customers and targeted audience. In fact, personal branding also helps when it comes to market yourself and your business to the world. This helps to create an impact and let you know what other people, including your customers, potential target and competitors, think about you.
Unfortunately, you will hardly have much control over this. The good news is you can influence over it, provided you ability and required knowledge to persuade your customers and target groups on social media.
4 Secrets for a Successful Niche Marketing Strategy
"Niche Market" refers to the specific demographic that you're trying to reach. If you're running a business, who are you trying to sell to? If you own a blog, who would you like to subscribe to it?
This all depends of course on your niche. Your niche is essentially the heart of what you do. If you could sum up everything your company website had to offer in two or three words, what would it be?
Throughout this guide we'll discuss the 4 best ways you can target your niche market through the use of honest engagement and quality content.
Know Your Niche Market
Sounds simple enough right? Yet hundreds of companies, websites, and blogs have a poor idea of who their niche market really is. How do you expect to market to someone you don't really know or understand?
Research and know where your niche market spends most of their time online. What websites do they visit besides your own? What is their preferred social media site? What are the top forums they follow?
Once you have an idea of what you'd like to offer your niche market, you'll need to find out where they're getting it already. I'd recommend trying out some bookmarking sites first. Reddit, StumbleUpon, Digg have very specific subset categories where you can locate just about any niche. Content is voted upon by their users so you always know what's most popular for your given niche.
Find Your Competition
I use "competition" loosely because in many cases you'll be collaborating with your competitors for some of your marketing campaigns. Basically you'll need to research and discover the biggest online websites that already cater to your niche market's needs.
Competition includes ecommerce sites, blog writers, forum moderators, Twitter accounts, Facebook groups, Pinterest boards, and pretty much anyone of any real importance in your niche. Again, although these specific sources are considered technically "competition", in reality, you'll be engaging them regularly to exchange resources that benefit them in exchange for niche market exposure.
For example, many mobile phone companies offer top tech bloggers their latest smartphones in exchange for a review article of the products on their blog. Some forums offer ad space on their site while bookmarking sites like Reddit offer promoted posts. After a while, some of your niche market reach might occur naturally.
An E commerce site sold some of their promotional products to a well known photographer. The photographer really loved what he got, and shared a picture of his new promotional jump drives on his Facebook account. With over 5,000 Facebook fans, that site got a ton of exposure from that single share. Later they reached out to other photographers and uncovered an entirely new niche market for their business!
Add Something New
Once you've researched where your niche market spends their time on the Internet and have a good idea what the biggest players in your niche provide, then it's time to find out what's missing. In other words, what makes you different than everybody else? What do you offer that I can't already get elsewhere?
If a niche already has a ton of forums, blogs, and other written content, try producing some videos about it. If you're a blogger, writing tons of well-written articles isn't always going to cut it. Try offering an extensive eBook that's the "definitive guide" to a subset of your niche.
If you're running an ecommerce site, be the first to open a blog specific to what you sell. If most ecommerce sites in your niche already run a blog with short content, try writing some longer, more detailed articles that are more valuable. You're basically still delivering your audience what they really want, but you're differing in the way you present it.
If you're targeting specific keywords in your niche for Search Engine Optimization, it's a good idea to target some long tail keywords that expand on your topic.
For example, if everyone is targeting "movies" and "movie reviews" for their entertainment blogs, you could try targeting something like "1950s science fiction movie reviews" or "European movies" which expands on the topic and delivers something that isn't regularly covered.
Try using the Google Keyword Tool or Google Trends to look into which topics and their subsets are currently popular for search engines.
Engage
Engage your competition. Engage your niche market. Engage your sub-niche communities. You've researched and found where the party's at, now it's time to get in there and mingle!
Leave comments on blogs, YouTube videos, and other posts. Participate in targeted forum discussions. Answer your fan's questions through email and social media. Retweet and reply to tweets. Comment on Facebook. Regularly pin and repin on Pinterest. Write guest posts for targeted news sites and blogs. Conduct interviews of professionals in your niche.
If you engage every aspect of the Internet that your niche market occupies, then they'll have no choice but to recognize you. It's that simple.
Find out who you really want to target, find out where they hang out online, and then engage them there. All the while, don't forget to offer something new and exciting to capture their attention when they visit your site. Niche marketing isn't very complicated. It just takes a lot of dedication, and a lot of passion.
So what are you passionate about? What methods do you use to market your passion to an audience? Please share your experiences and questions in the comments below.
Steps to do successful niche marketing
Step 1. Understand the Gaps in the market.
Step 2. Research the Opportunity
Step 3. Create Your Marketing or buyer Persona.
Step 4. Brand and Value Proposition
Step 5. Content and Channels
Step 6. Develop a Content Strategy.
Step 7. Sales and Lead Generation by AACRO model.
Activation
Acquisition
Optimization
Step 8. Publish and Promote Your Content
Step 9. Identify Influencers
Step 10. Outreach
Step 11. Measure and Improve.
Effective Niche Market Segments
Conscious consumers (Sustainability, Food & Health consciousness, Environmental consciousness)
Pet owners
LGBT Community
Travellers
Gamers
Home Owners
Remote workers
Locals (Tap area specific problems & gaps in market)
Tools to use for niche marketing research
Mind map (https://www.mindmeister.com/)
Google trends
Google Search
Google Auto Suggestions
Google PAA (People also ask feature)
Google related searches
Answerthepublic.com
Ubersuggest keyword research
Social listening / Social research tools
Examples of Mind map for finding a niche market:
Successful Niche Marketing Examples
10 companies who did successful niche marketing.